On March 28th European Business Network in cooperation with Estonian Chamber of Commerce held a Networking Event where Indrek Vimberg, CEO of the Estonian ICT Demo Center and Arvydas Bagdonavičius, Deputy Director of Lithuanian Centre of Registers presented developments in the area of e-governing of Estonia and Lithuania.
Indrek Vimberg showed how information and communication technologies can reduce the administrative burden and what impact their company had on the development of Estonian E-Government. I. Vimberg started his presentation with main indicators if information society. He stated that in Estonia 100% of schools and government organizations have broadband internet connection, 71% of families have a computer at home, 68% of homes have broadband connection, 99% of bank transfers are performed electronically, 94% of income tax declarations are made via e-Tax Board, there are four operational 3G and two 4G networks, the country has 1139 public WiFi areas and in 2011 24% of votes were cast over the internet.
According to I. Vimberg their company's main goals are trust and interoperability (the ability of diverse systems and organizations to work together or "inter-operate"). They try to achieve them with technologies such as the ID-Card, which contains information about a citizen shown on the card, a certificate for authentication (e-mail address included) and a digital signature certificate. In addition, in 2007 Estonian ICT Demo Center introduced Mobile-ID, which is suited for mobile phones.
Estonia has a wide information system, which can be seen in the picture below.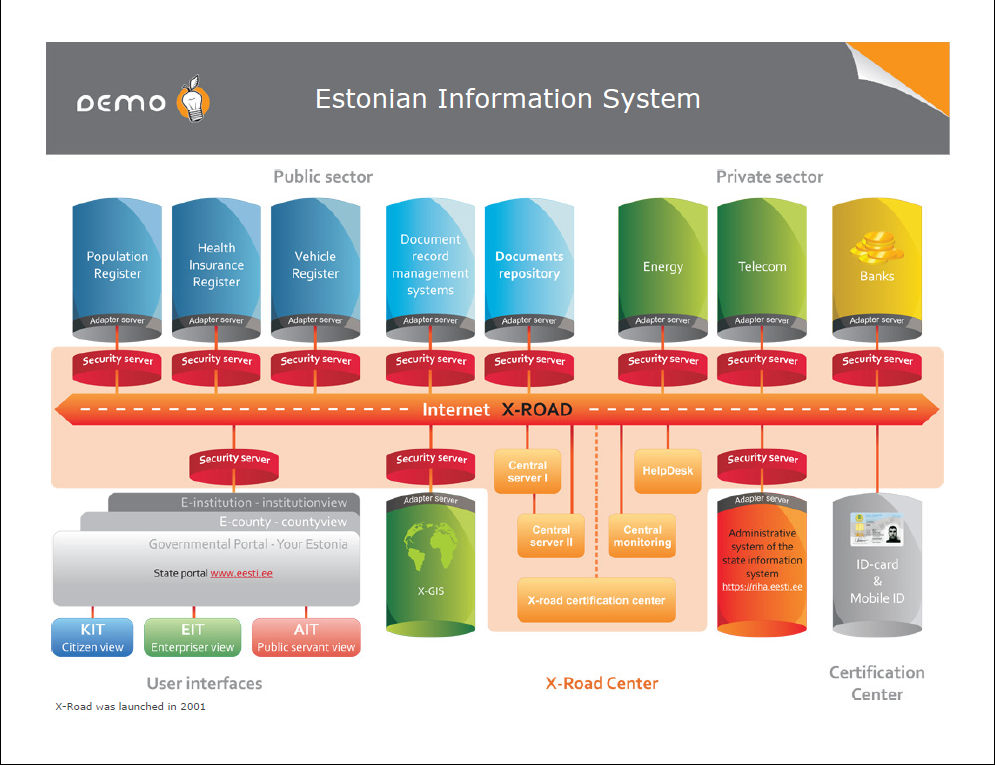 The second presenter - Arvydas Bagdonavičius focused on the role of State Enterprise Centre of Registers in creating eHealth system in Lithuania. He started with an excerpt from an approved resolution of the Lithuanian Government, which states: "State registers integrated system should be the basic information source for public institutions IS [information system], for business and public IS, for Lithuanian image creation.
Later A. Bagdonavičius expanded on Lithuania's eHealth starting position, main principles and tasks and the whole state electronic health services and cooperation infrastructure information system, however, a complicated concern was raised, because, according to the presenter, Lithuania is planning on creating a double eHealth system, because some institutions already have some sort of infrastructure and others (smaller ones) do not, thus two different systems are needed to save costs. Implementation of Lithuanian eHealth system is scheduled to start this summer.
EBN reporter Edgaras Savickas